The way of the future: using sounds to monitor landscapes.
Wednesday, 16 December, 2020
Imagine yourself standing on a beach. Close your eyes. What do you hear?
We don't need to see to understand our location, what we hear can tell us about our environment. The sound of the ocean can tell us if it is a calm day or whether the surf is good; we can identify which species of birds are present on the beach or in the adjacent vegetation by their voices, wing beats and footwork. The sound of the wind passing through the vegetation can indicate whether there are casuarinas or coconut palms fringing the beach; and voices, panting and barking can indicate if there are people exercising their dogs or families playing nearby.
The collection of all the sounds in the environment, including man-made (passing cars or aeroplanes), biological (animals and plants) and geological (water, wind and rain) is called a soundscape. We use soundscapes as a tool to monitor long term change in a landscape. We can also break the sound recordings down to understand animal diversity, behaviour and distribution, and combine sounds with other environmental data to understand relationships between communities and the environment. The use of sound in ecological research falls within a broad interdisciplinary science called 'ecoacoustics'.
Our Senior Ecologist, May-Le Ng, has used sound to understand the environment throughout her career. In her 2014 research paper 'Soundscapes as a surrogate measure of vegetation condition for biodiversity values: A pilot study', May-Le identified how soundscapes can be linked to differences in vegetation condition. Since then, the use of sound in the ecological space has continued to evolve. "There has been a lot more research into how we can use sound to understand environments and their inhabitants, and exciting ways we can present the information visually."
When working with clients at ELA, May-Le uses spectrograms to visually represent sound recordings over time. These can show the sound captured in a fraction of a second (microbat calls) all the way up to recordings over multiple years, which can be used to monitor seasonal trends and changes with time. A soundscape frequency spectrum is another visual representation that indicates how sound is distributed within the frequency range. We can use this to understand where the greatest proportions of sound are coming from. "People generally learn from visual representations. These types of graphs help our clients understand the sounds and what that means for their projects," May-Le commented.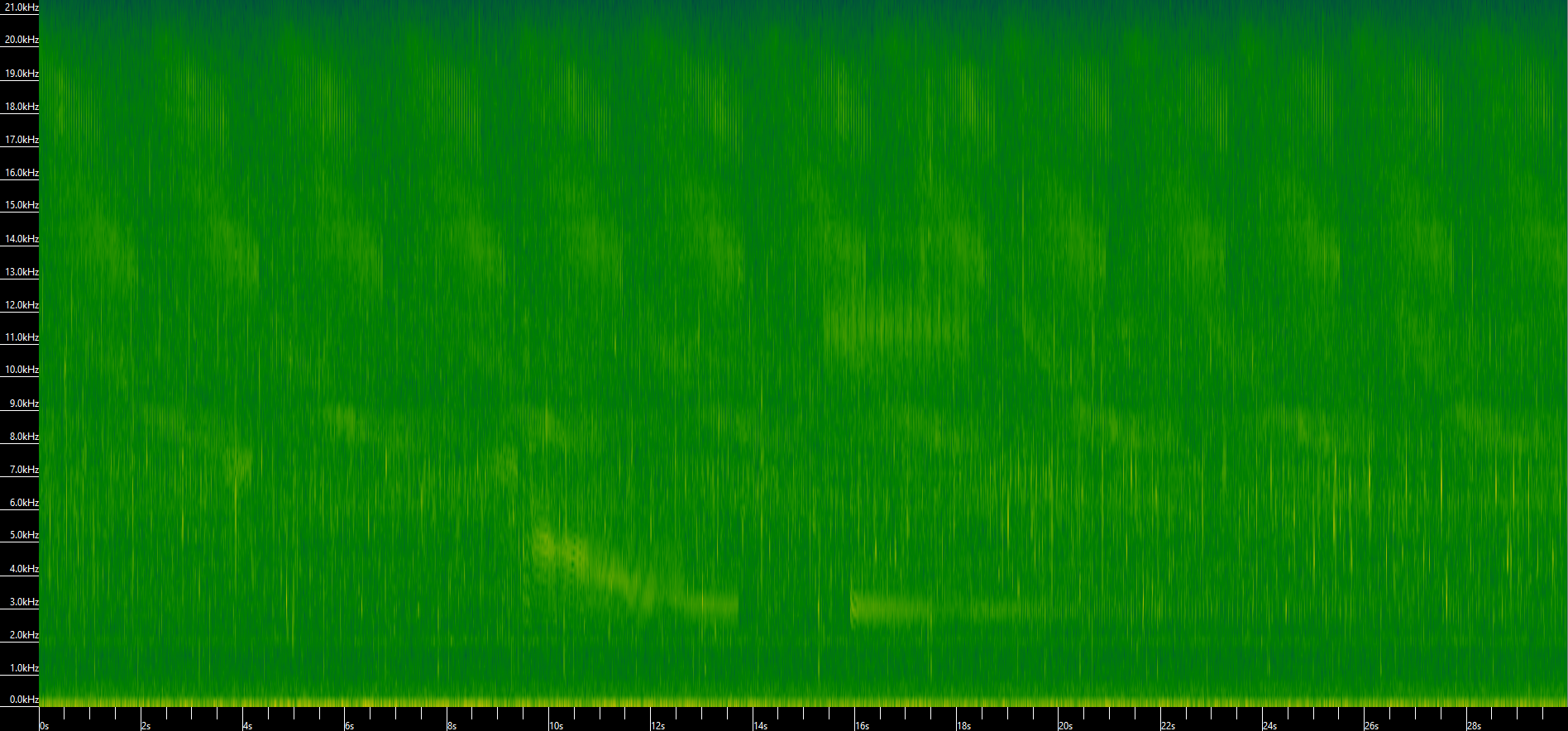 Spectrogram of a sound clip recorded in a freshwater creek.
Listen to the sounds here: Gas Exchange Recording


At ELA, soundscapes can be used for most of the projects we work on, including rehabilitation projects, mine closure and offset sites where clients are looking to meet and maintain certain habitat conditions. They can also be used for impact analysis for developments such as transport infrastructure, urban development, mining or oil and gas. We can apply the same principles underwater in marine or freshwater environments as we do on land.
A soundscape frequency spectrum shows how sound is distributed by frequency band. Here are two sites, the top site is near a development and the bottom site is in an equivalent habitat away from development. The soundscape of the top site is dominated by sound in the 1kHz band - most human generated sound sits within this frequency range. The shape of the spectrum of the bottom site is typical of a soundscape recorded in semi-arid woodland.


Soundscapes are beneficial on projects that require long term monitoring as they give our clients a thorough understanding of their site over time. "We can capture important data using a sound recorder that can continue to record for years, which adds richness to a field survey, a snapshot of one point in time. We use this data to detect how an ecosystem is changing over time and whether animals are revisiting the location to indicate the function of the ecosystem."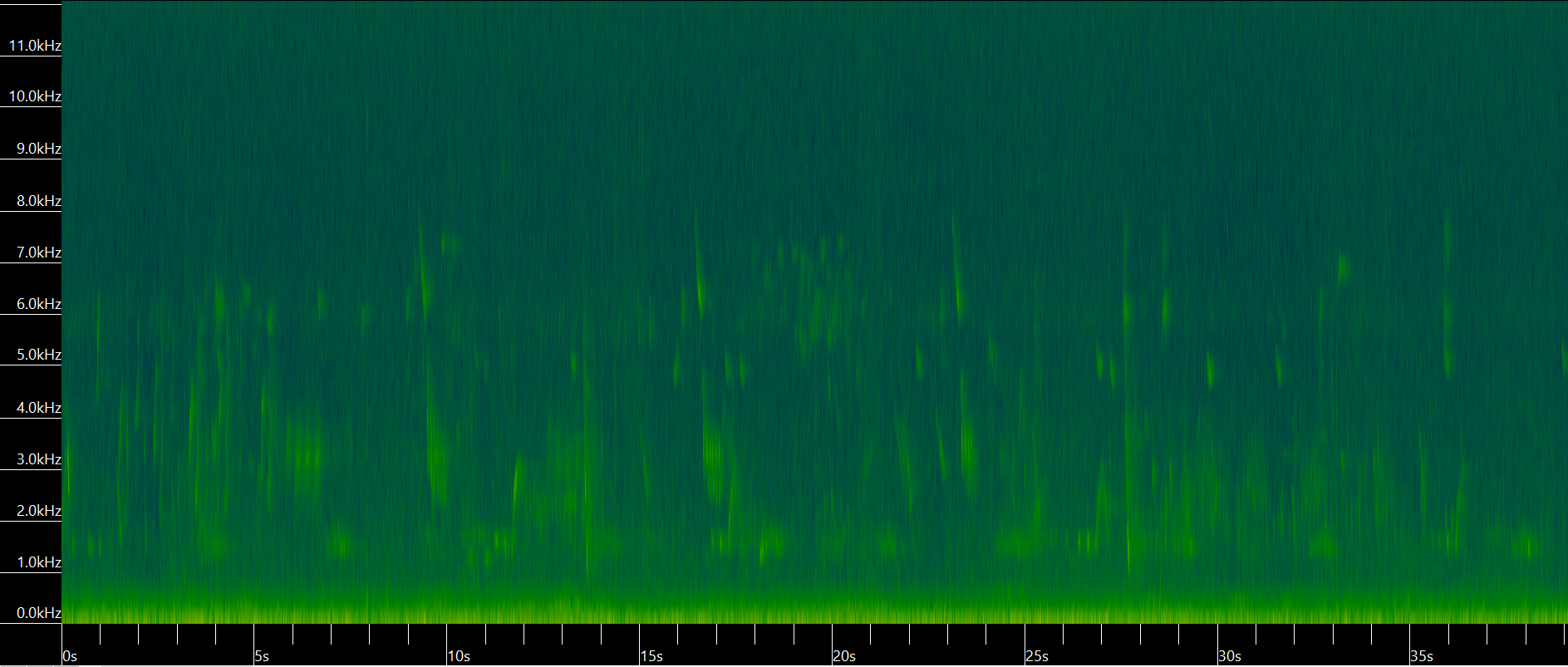 Spectrogram of a dawn chorus in the Sunshine Coast.
Listen to the sounds here: Dawn Chorus Recording


Soundscape monitoring is cost effective as less person hours are required from Ecologists to conduct surveys out in the field. This means that there is minimal field disturbance as it doesn't require people onsite to capture the information. Installation of the recorder takes roughly 10 minutes, which includes attaching a recorder to an existing tree or structure. "This is low impact as we don't need to dig holes or install any fences for funnels which is required in some fauna surveys. For short term projects the sound recorder is battery operated and for long term projects we use solar panels. The site is then revisited, the memory card is removed, and the analysis of the sound begins."
"The analysis is always exciting as each site is different and we gain new insights into wildlife each time," commented May-Le. "We've just analysed some sound data and heard koalas bellowing in heavy rain at one site and wild dogs chorusing at another."
One of May-Le's favourite sounds is the call of the yellow oriole bird ringing across the landscape. A hydrophone dropped into a tide pool adds a new dimension, for example, grunters (a type of fish) can be heard chasing other fish from their patch while we watch them from above. In freshwater environments, the sound of gas exchange (aquatic plants breathing or decomposition of organic matter)seems to be a favourite amongst ecologists. Insects also provide an interesting insight into air temperature, as temperature falls through the night, the frequency of some insect calls also fall.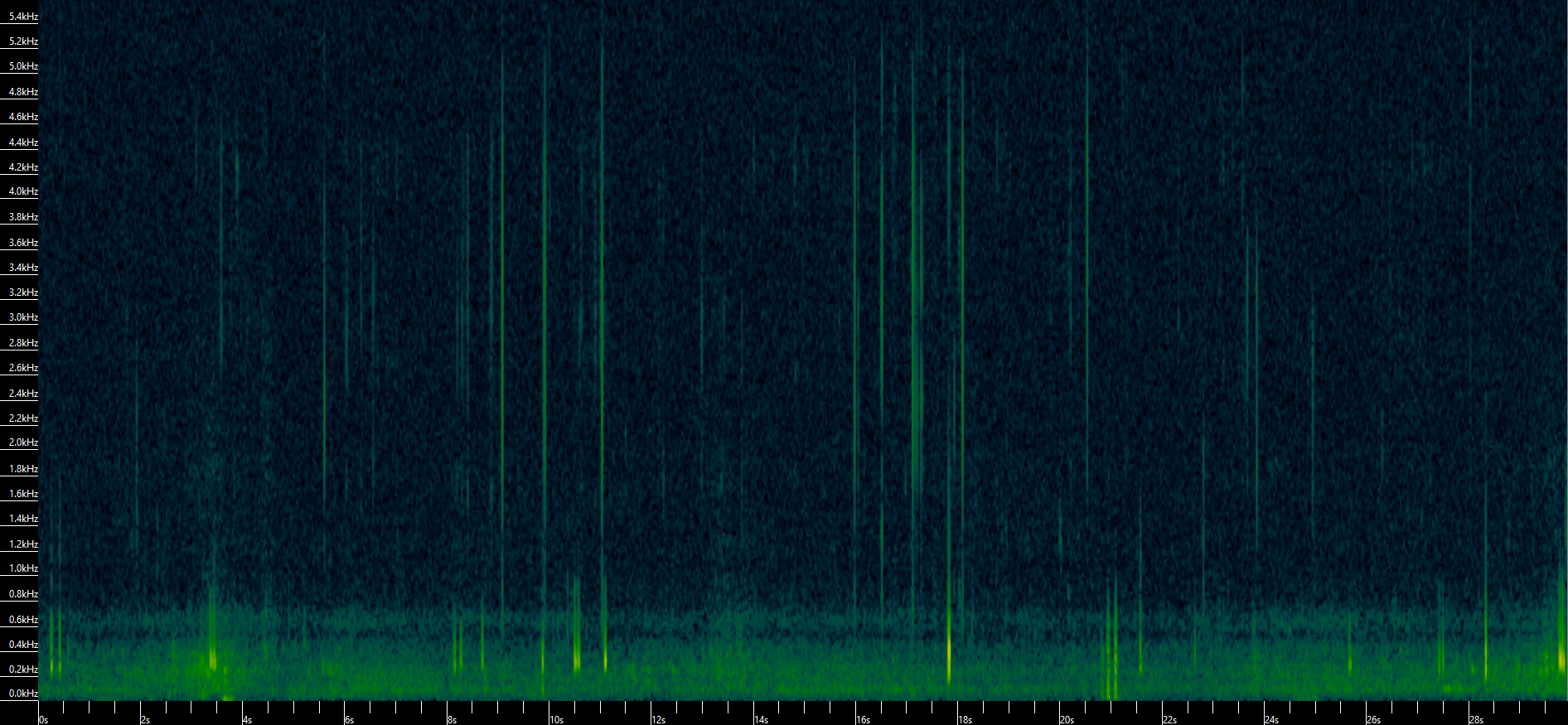 Spectrogram of a sound clip recorded in a rock pool at Coolum, Sunshine Coast, QLD. Grunters can be heard chasing other fish.
Listen to the sounds here: Grunters Recording

This new way of using acoustics started to kick off internationally around a decade ago. "Most of the work to date has been conducted by research institutions. We are excited to use this technology to help our clients achieve their goals more efficiently and in a more cost-effective way." The increase in research over the last few years indicates that people are considering using soundscapes as a complementary way of understanding what is occurring in the environment.
"Soundscapes are something different. I like to bring research findings to clients because they may not necessarily have been able to apply this scientific knowledge to their projects in the past. I'm also a quantitative person, so I love analysing numbers and graphs," May-Le commented.
Earlier this year, we used three years of long-term monitoring data to illustrate the use of soundscape analysis techniques to monitor the environmental impacts of a gas field project. The soundscape analysis captures the impact of human-induced sound produced at wells on the natural soundscape, including whether the wells can be detected at distance and if any changes to the natural soundscape (and therefore impacts to wildlife) can be observed with the introduction of these sounds. The findings from that work have been applied to this year's spring monitoring event to supplement previously used techniques. We are looking forward to running the analysis and incorporating this method into the reporting for the project's long term monitoring program for the first time.
Soundscapes are highly effective in monitoring long term changes within the environment. This technique can be applied to rehabilitation and restoration projects, and conditioned long-term monitoring related to development sites and the surrounding environments. It is also beneficial for monitoring the impacts of environmental management actions (e.g. environmental water releases), noise emission impacts to native wildlife and the monitoring of vocal species.
At ELA, we love learning and developing innovative approaches to what we do, "This is the way of the future, it is something that sets us at ELA apart. We love a chance to apply innovative solutions for our clients."
Get in touch for approachable expertise on all things ecoacoustics:
May-Le Ng
Senior Ecologist
07 3239 9305
may-le.ng@ecoaus.com.au
www.ecoaus.com.au