Using science and tech to give clients real time results
About a year ago, we made a commitment to focus on innovation to stay at the forefront of the industry and provide better a quality service to clients. We recently asked Martin Sullivan, Senior Botanist and Innovation and Efficiency Lead about what's been happening in this space.
Q1. Why is innovation important?
It's about challenging the status quo and identifying opportunities to do things differently. We work in a competitive market and you've got to ask 'why are we doing it this way?'. There's always ways to do things better.
Q2. What was the Illogical challenge all about?
Every year our 150 staff come together for two days to share knowledge and celebrate 'Vision Day' when Eco Logical Australia was founded. This year we did something different. The Illogical challenge was a whole of company innovation competition where we split up into teams to solve our greatest challenges, which were nominated by staff. The results were incredible. It got the whole company engaged and was lots of fun. The final ideas were brilliant, ranging from project thylacine which proposed using our resources for the greater good, to postcards to the CEO. We voted on the ones we wanted to make a reality, so watch this space!
Q3. One of the initiatives is the 'field data capture project'. Why are you so interested in databases?
Ever since mucking around with commodore 64s a kid, I've always been interested in technology and how it can help improve your life. Everything we do at Eco Logical Australia results in data being generated. We're scientists and if we can have efficient means to capture and analyse data, we can work smarter. We've been collecting data electronically for the past 10 years, however recent advances in technology allowed our Western Australian team to lead the way with remote data collection using tablets and Collector for ArcGIS software in 2014. Since then we've developed a series of customised databases, and tablets have been deployed to Queensland, Western Australia and New South Wales used for ecology, cultural heritage and bushfire. I'm currently using them on a vegetation mapping project for National Parks and Wildlife in Dubbo. 20% of a project cost could be spent entering data and if we can do it more efficiently our teams can spend more time doing the things they love - being in the field and helping clients solve problems.
Q4. What technology is involved, is it really bullet-proof?
We use rugged tablets which can withstand minus 30 through to +60 degrees. They're water, shock and dust-proof and are capable of more than 12 hour days in the field…. almost as resilient as an ecologist… but not quite as smart! They're also 4G and GPS enabled so you get accurate location data and it allows you to sync your data on the fly. After a bit of coding work, a pilot program, the invaluable input and testing from the team we got them up and running earlier this year.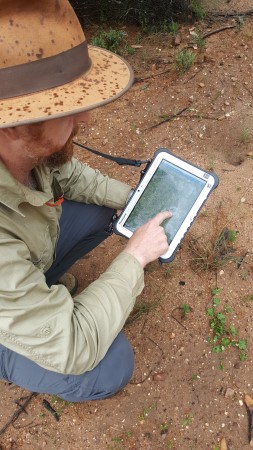 Q5. What are the results so far, has this benefited clients? Any cool features?
So far it's delivered improved data quality, greater efficiency and accuracy and better value for our clients. We can collect lots of data in a short amount of time, as opposed to paper-based approaches which make it hard to get consistent data - it's double handling and introduces error. This new system is also cloud-based and we can generate cool interactive web maps so clients can login and track their projects' progress in real time, seeing the results as they're found. The high res aerial maps we use are really impressive. When our clients' have been in the field with me they've also loved the greater locational accuracy compared to standard GPS. A lot of the work we do is in really remote locations or highly vegetated. Often there are no roads or street signs, usually all you've got is some lines on a printed piece of paper it can be very difficult to track your location. It's better for safety, (there's a lot less doubling back!) and there's a great sustainability benefit too, no need to print thousands of maps for field teams.
Q6. What's next on the innovation front?
More databases! Collecting data spatially is not always the best way, especially when you need to collect lots in a single location. We'd like to develop a series of databases to collect all sorts of technical data in the field. We're also working on a company-wide likelihood of occurrence generator but that's classified!